SUSK Participates in Historic UCC XXV Triennial Congress
The Ukrainian Canadian Students' Union (SUSK) is privileged to have participated the in XXV Triennial Congress of Ukrainian Canadians. The Congress, held in Regina, Saskatchewan, featured over 250 delegates who took part in discussions and dialogue that will set the priorities and direction for the Ukrainian Canadian community for the next three years.
Youth Engagement
SUSK is delighted to have contributed to the record number of 43 youth delegates: nearly double of the previous Triennial Congress in Toronto. With representatives from Calgary, Edmonton, Saskatoon and Regina, SUSK sent 13 delegates and corresponded with Ukrainian students who represented other youth organizations. Our delegates were involved with the formal structures of Congress, including the resolutions and verifications committees. One of our delegates also served as Vice Chair for the presidium of the Congress. SUSK prides itself for taking the lead in youth engagement in the Ukrainian Canadian community. SUSK emulates many of the formal proceedings of Congress at its own annual conference.
SUSK Welcomes Incoming UCC Board of Directors
The XXV Congress also elected the officers of the Executive Committee, and the Board of Auditors of the UCC. The Ukrainian Canadian Congress is the voice of 1.3 million Ukrainian Canadians and brings together all Ukrainian Canadian organizations (local, provincial, national) under one umbrella. The UCC represents the Ukrainian Canadian community before the people and Government of Canada, promotes linkages with Ukraine and identifies and addresses the needs of the Ukrainian community. We would like to sincerely congratulate the incoming Board of Director and Board of Auditors of the UCC, who serve our community with drive, passion, and professionalism.
Advocacy
SUSK President Cassian Soltykevych actively advocated for Ukrainian student interests throughout the weekend, being present at meetings with both the Honourable Stephane Dion and the Honourable MaryAnn Mihychuk.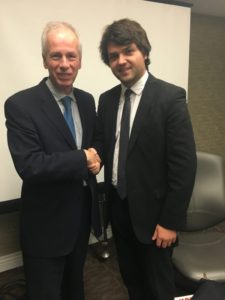 SUSK passed two resolutions to the Congress to inform the direction of the Ukrainian community. The first of which called for youth participation in the UCC's National Committees, and the latter called for encouraging to work with Civil Rights groups in Ukraine.
To learn more about the Triennial Congress, visit ucc.ca or follow the hashtag #UCCXXV on social media.